Many of our members are holding holiday open houses and studio tours. All are free and open to the public:
Redlands Studio Holiday Tour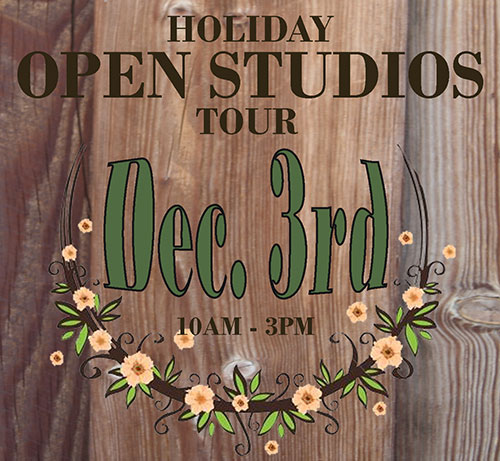 Saturday, December 3 at 10 AM - 3 PM
Bring a friend to explore local art studios and buy original art, jewelry and pottery during the Redlands Holiday Open Art Studio Tour on Saturday, December 3rd, 10:00am to 3:00pm. The free, self-guided tour starts with map pick up at TuckerWorks Art Studio, 333 E. Stuart Avenue, #F in downtown Redlands (just north of Redlands Blvd, between 6th and Church).  Refreshments will be available at many studios.
More than 15 artists from TuckerWorks Art Studio and The Redlands Art Association are participating at five different sites within the Redlands city limits. It's a great opportunity to see the creative ways in which artists do their work. Visit facebook or the webpage for more information.
Participating artists include:
| | |
| --- | --- |
| Beth Bobbitt, Silversmith/Jewelry Designer | Jack "Cactus" Caselles, Ceramics |
| Cambria Diersen, Handbuilt ceramics | Katie Cullen, Stoneware |
| John Fisher, Raku & saggar fire | Annie Koning, Earthenware pottery |
| Scott Pangburn, Coiled stoneware | Kim Munkres, Stoneware/Obvara |
| Frank Perez, Photography | Anna Robles, Ceramics |
| Nick Robles, Photography, drawing, textiles, & enamelware | Tim Rogers, Glass & graphite |
| Dean Stayner, Stoneware | Brenda Spoelstra, Stoneware |
| Jim Stewart, Glass & stoneware | Lisa Tucker, Ceramic sculpture & handmade soap |
| Christine White, Acrylic, oils, & water color | |
---
Candy Glendening's Holiday Open Studio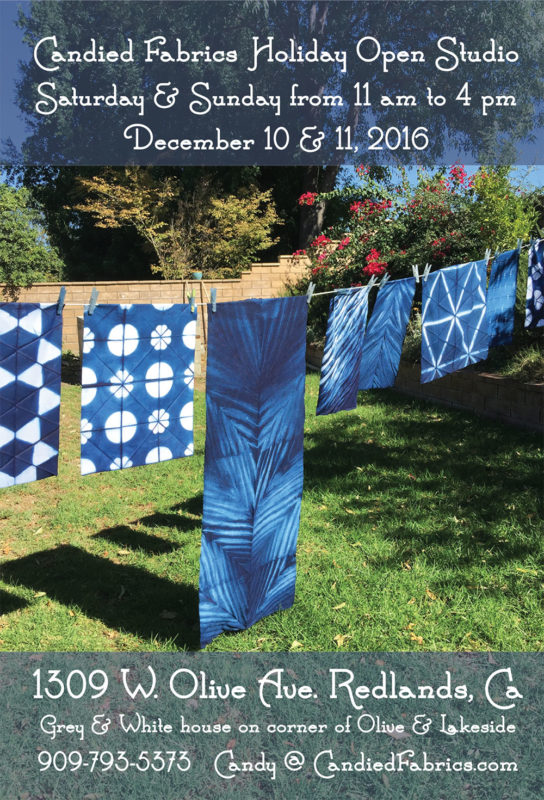 Saturday & Sunday, December 10 & 11, from 11 am – 4 pm
I'm having an open studio on Saturday & Sunday, December 10 & 11, from 11 am – 4 pm each day. Please stop by for some holiday goodies, I love getting a chance to say thanks to my awesome customers with some mulled cider and yummy baked goods. You'll get a chance to poke around both my dyeing and sewing studios, and I'll have lots of items out for your holiday shopping pleasure!
My home is located at 1309 W. Olive Ave., Redlands, CA (click address for map). It's a grey house with white trim on the corner of Olive and Lakeside.
Candy Glendening
---
Janet and Fred Edwards Holiday Art Show & Sale

Friday, December 9, 10 am – 5 pm
Saturday, December 10, 10 am – 5 pm
Sunday, December 11, 1 – 5 pm
1314 Del Haven Court • Redlands, CA 92374
Parking available along Ford Avenue below Highland Avenue or on our cul-de-sac off of Grove Avenue
The combined display for Janet and Fred Edwards will include unique pieces by Fred and several prime Serigraphs from the archives by Janet as well as many new framed watercolor studies of flowers presented in circle mats.
Also, the last seven in the edition of the popular etching "Palms to Peaks" will be offered. If you wanted this piece, now is the time.
Special gift requests filled whenever possible until Christmas. Please invite your friends.
Call (909) 793-7169 for more information or for a special appointment prior to the show.
PLEASE NOTE: This date is in place of the November 11, 12, 13  date previously announced.
Studio Tour 6 – December 10th & 11th
Get to know local artists in their creative spaces. Three studios, six artists, two days featuring:
Terry d Chacon, an internationally know oil painter and sculptor, will be sharing both her plein air paintings as well as her sculptures in progress during the studio tour weekend. She will be hosting Jillian O'Dwyer a ceramic artist creating highly textured functional pottery.
Patricia Rose Ford, a well known soft pastel artist and instructor, is the second stop on her tour. Her en plein air paintings are not to be missed. She will be hosting Cindy Jones Lantier and her wonderful handmade soaps and creams.
Adeola Davies-Aiyeloja, enamelist and metalsmith jewelry, rounds out the studio tour stops with beautiful creations. She is dropping hints of scheduling demos of her process! She will be hosting Luvenia Humphrey whose wearable fiber artwork is stunning in bold African inspired prints.
Studio Tour 6 opens on Saturday, December 10th from 10 am to 4 pm and wraps up on Sunday, December 11th from 10 am to 4 pm. Visitors to all three studios will be entered for a chance to win one of six original works by the artists. We hope to see you there!